Hand Soap and Sanitizers
Wet ones antibacterial hand wipes actually clean up grubby and sticky hands. So when soap and water aren't handy, grab wet ones wipes to kill 99.99% Of bacteria, wipe away grime, and get nice soft hands. Thanks to their aloe formula, they won't dr...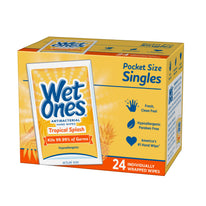 When soap and water aren't on hand, reach for America's #1 Hand Wipe* - Wet Ones Antibacterial Hand Wipes. Our cleansing wipes kill 99.99% of bacteria and make it easy to quickly wipe away dirt, messes and germs. Wet Ones are pediatrician tested, ...
Indulge in a rich, creamy lather for the perfect balance of feeling clean and moisturized. Get healthy feeling skin with Dial Antibacterial Deodorant Bar Soap. The classic Gold fragrance you know and love won't just take you back in time – it'll ...

Product Added to Cart
1 Item
Continue Shopping
View Cart