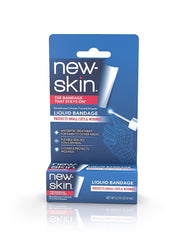 New-Skin Liquid Bandage Over 50 Applications 0.3 FL Ounce
Description:
NEW-SKIN LIQUID BANDAGE OVER 50 APPLICATIONS 0.3 FL OZ


Product Features
Antiseptic to help prevent infections

Invisible, flexible,and waterproof

Easy to use
First aid to help prevent bacterial contamination in minor cuts and scrapes.

New-Skin Liquid Bandage is for small cuts and wounds.

New-Skin dries rapidly to form a tough protective cover that is antiseptic, flexible; waterproof and lets skin breathe.

Completely covers the entire wound to keep out dirt and germs.
Note: Please Message us for shipping costs, for orders shipping out of the 48 contiguous states as well as international orders.
Our Brands