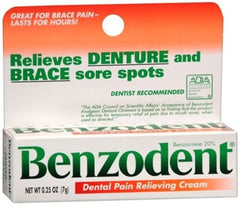 Benzodent Denture Ointment - 0.25 Ounce
Description:
Benzodent provides temporary relief of pain for oral discomfort caused by braces or canker sores. With the maximum amount of benzocaine allowed in an OTC oral care product, Benzodent is the dentist-preferred anesthetic for oral pain associated with new or ill-fitting dentures.* The unique formula cushions and adheres to gums for pain relief that lasts for hours.Active Ingredients: contains:: Benzocaine 20% (Pain Reliever)Inactive Ingredients: Cellulose Gum, D&C Red No. 30 Lake, Eugenol, FD&C Blue No. 1 Lake, Oxyquinoline Sulfate, Petrolatum
Contains maximum strength benzocaine in a unique cream base that adheres to denture sore spots.
Our Brands