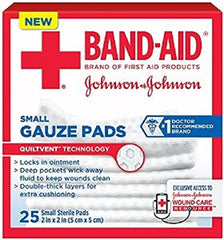 BAND AID First Aid Small Gauze Pads 2 in x 2 in 25 Each
Description:
* A covered wound heals faster than an uncovered one.
* Extra Absorbent - for Cleansing and Covering Wounds
Ideal for cleansing and covering larger cuts, scrapes and minor burns because they are highly absorbent. The pads are designed to pull fluids away from the wound site and comfortably clean dirt and germs from the injured area to help wounds heal.

Sterility guaranteed unless inner package is damaged or open.

The Red Cross design is a registered trademark of Johnson & Johnson. Products bearing this trademark have no connection with The American National Red Cross.


Our Brands