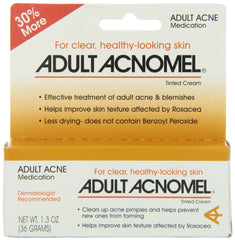 Adult Acnomel Tinted Cream Acne Medication - 1.30 Ounce (36 g)
Description:
Adult Acnomel adult acne medication tinted cream clears up acne pimples and helps prevent new ones from forming. It is an effective treatment of adult acne & blemishes. Helps improve skin texture affected by Rosacea. Less drying does not contain Benzoyl Peroxide.
Acnomel Adult Acne Medication Cream Treats acne, helps prevent new pimples, clears up most acne pimples.

Effective treatment of adult acne and blemishes.

Less drying without Benzoyl Peroxide.
Our Brands