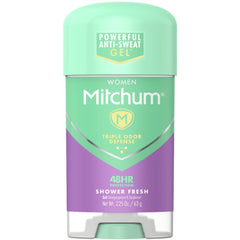 Mitchum Women Shower Fresh Gel Anti-Perspirant & Deodorant 2.25 Ounce
Description:
Stay Fresh Round the Clock
Mitchum Women Clear Gel Deodorant protects you from body odor round the clock. It's made with a quick drying formula that doesn't leave stains or residue on your clothes. This deodorant can be applied at any time of the day to remove germs and bacteria from skin and helps you feel fresh throughout the day.
Protection from wetness
Prevents skin odor
Has a pleasant fragrance
Clinically proven
Just For You: All skin types

A Closer Look: Mitchum Women Clear Gel Deodorant is formulated with OdorGuard that protects you from skin odor and eliminates odor causing bacteria. It dries quickly so that there's no stain or residue left behind.

You Won't Find: Alcohol

Get Started: Spray the deodorant on your underarms only.
Our Brands