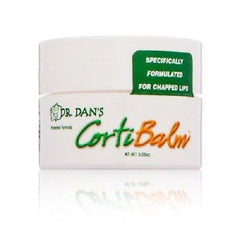 Dr. Dans CortiBalm Medicated Lip Balm,Great for chapped lips - 0.25 Ounce jar
Description:
NEW Dr. Dan's CortiBalm Medicated Lip Balm, 0.25 oz jar



Dr. Dan's CortiBalm was developed and proven by a leading dermatologist. It's effective on lips 
severely chapped
 due to medications such as Amnesteen or Soriatane; or weather, cosmetics or sunburn. 
It is an over-the-counter, medicated lip balm made with a blend of beeswax, petroleum jelly, mineral oil and 1% hydrocortisone in a non-irritating base.  

Our Brands